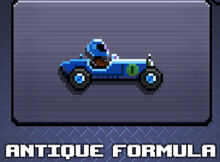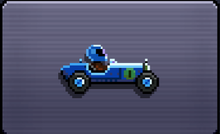 The Antique F1 is a vehicle in Drive Ahead. Like a lot of vehicles in the game, it can be unlocked from the Slot Machine.
Appearance
Edit
The Antique F1 is a small vehicle. It has two little wheels underneath it. It's width makes the driver sonewhat harder to hit from the front since he sits further back. A circle with the number 1 inside can be seen near the front.
Extremely high speed.
Small size can help to dodge enemies
Does very good flips and tricks.
High acceleration.
Either wheel can be used as a hook.
Sometimes being small won't help (especially against vehicles like Monster Truck)
Driver's head is not very well protected from any direction
It is small
It is only one of two "Antique" vehicles in the game, the other being Antique Automobile.
It is playable in the mission Doomball.