The Formula is a rare vehicle in Drive Ahead. It was in the game since it's original release.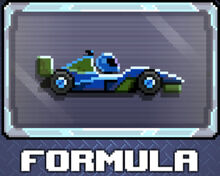 Appearance
Edit
The Formula is a flat racecar that has a driver's seat in the middle of it, it's front and back reaching out from the seat. It is colored primarily blue with some green patterns if used by the player; when used by the opponent it is primarily red with some yellow patterns.
Fast Speed
Long
Moderate level of defence from the back
Flat, and easy to get on top of it.
The Formula was previously called the "F1 Car"