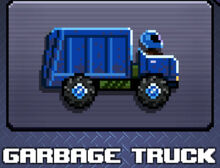 Garbage Truck
Edit
The Garbage Truck is a large truck in Drive Ahead! that carries garbage inside of it.
G
It has immense size and bulk.
It is one of the strongest vehicles in the game.
It is very defensive from behind.
It can drop garbage out the back of it, which can slow enemies down or hit their driver.
The garbage can be used as a projeyggyuvyuctile.
Mediocre downforce, so it can pull up moderately fast.
There is a hollow space in the back to trap opponents.
It is not very well protected from the front.
It has poor agility due to its immense size.
The lid can get you stuck.
Garbage bags can fall on its head
Slow
The garbage bag's color is green for the blue as the red garbage truck's bags are brown for the red.
Community content is available under
CC-BY-SA
unless otherwise noted.