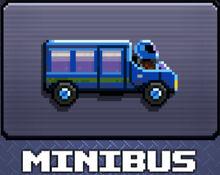 The Minibus is a common vehicle that was one of the original cars in the game. It is also a default vehicle.
Appearance
Edit
It resembles a bus, with three windows and a door at the front to enter in. The player's head is at the front, unprotected. The vehicle also has two small wheels at the bottom.
It is hard to hit from the back.
It is a decent size.
Has good acceleration.
It has low downforce, pulling up quickly.
If it does a backflip, it can land with all of its strength on an enemy.
Not much protection of the head at the front.