The Tourist Bus is a large bus with five windows, with the second window from the front serving as a door to walk in through. The player's head is on top of the bus, and the vehicle also has two small wheels. The bus is decorated with a flame decal often seen on Coach Buses in America.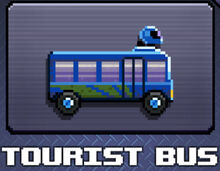 Small cars have trouble hitting the player's helmet because it is on top of the bus.
It has decent speed and its large size allows it to wall some cars.
In a sudden death when water is rising, the driver of the Tourist Bus is likely to survive because of the height at which it is at.
It is extremely vulnerable from above.
Despite it's size it has only decent strength, meaning it can be pushed around by some smaller cars.
It has a lot of weight, and is heavier than many cars of the same size
Sudden death with saws lowering from above is a big disadvantage because the driver is high up and likely to be hit first.
The Tourist Bus and the Hippie Van are opponents in the mission Hippies!!!
The Tourist Bus is similar to Minibus which the designs are the same but the head is on the top
Community content is available under
CC-BY-SA
unless otherwise noted.